2016 did not suck – year in review
Every year I write a post publicly committing to my goals for the year and reviewing the year that was. This is my 3rd post, here is the 2015 one and the 2016 one.
Every year I fail almost all of my goals. In some cases I aim too high, in others I just have no clue what the future holds, and pretending to is a bit of a futile exercise. Safe to say 2016 was a year like that, it was more about missing goals and achieving things I never would have considered when the year started. So let's look at the goals and the results. I will post another article soon with 2017 goals.
This year I broke my goals up into my 3 businesses, WP Curve, Black Hops and my personal brand.
WP Curve
Goals:
Reach $120,000 in Monthly Run Rate ($1.44m UDS annually).
Build the email list from 24,000 to 50,000.
Increase average monthly website visits from 60,000 to 100,000.
Increase customer happiness score from 83 to 90.
WP Curve didn't really grow in 2016 at all. We were at about $1m annual recurring revenue ($83k / month) at the start of the year and around the same at the end of the year. The other numbers like email list and traffic were the same.
We did however sell WP Curve to a multi-billion dollar web company and that process took a decent chunk of the year and was a big focus for us.
Related: TechCrunch – GoDaddy buys WordPress services startup WP Curve
My co-founder Alex gets all the credit for that, and now works with GoDaddy on bringing the team across. It was a crazy way to finish the year and a great result for everyone.
So yes we failed all of these goals but our focus really wasn't on these things. We managed to keep a great service for existing customers and grew most metrics a small amount, and in the end selling a company you started from scratch with zero funding, to one of the biggest web companies in the world is a considerable achievement from where I was a few years ago.
Black Hops
2016 was an amazing year for Black Hops Brewery. On this day last year I was sitting in an empty shed monitoring 4 Bunnings fans attempting to dry off our newly painted floors. Our equipment was arriving the next day and we needed the floors to be dry and ready. Today I've just been working at our bar pouring beers with my good mates Eddie and Govs to the local legends who come in and enjoy our beers. Today was by far our biggest Saturday and this week was double our biggest week.
So here were the goals at the start of the year and how we got on, and as I say these were pretty ambitious considering we had an empty shed at the time.
Be the first Aussie brewery to successfully launch on crowd funding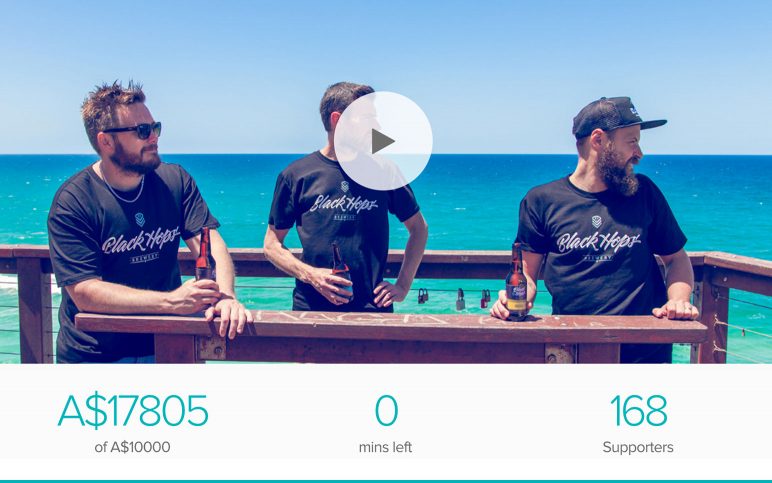 This one, we got done. We hit our goal on the first day of the campaign and ultimately raised just under $18,000 to help kick Black Hops along.
Related: Crowdfunding for business – how we hit our goal on day 1, and how we could have done better
Open our brewery on the Gold Coast.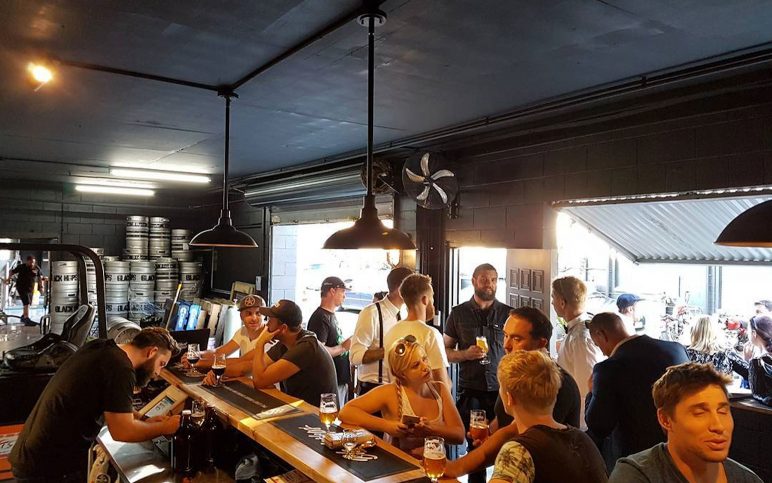 This one we achieved as well but not without some pretty savage time and cost blowouts and a lot of very intense moments. We had Black Hops virtually ready to open in early 2016 but we had a problem with our steam boiler and the people helping us install it. It costs us tens of thousands of dollars and months of time. We had to put more money in, raise more from investors and ultimately for me it meant we were delayed opening to a point where our opening coincided with a trip I had planned to the US. That meant I couldn't even be there for the opening which was pretty devastating.
On the day we opened I was in a meeting with GoDaddy in Silicon Valley talking about the possibility of them buying WP Curve.
It seems like so long ago, and things have settled down at Black Hops. We have had our fair share of stressful moments throughout the year for sure, but it's been an epic year, we have a profitable business making and selling beer FFS. What more could you want?
Big shout out to Govs who has brewed so many beers we've lost count and has also taken on the role of Black Hops spokesperson like a duck to water. Try to stop Govs talking about beer, I dare you. Eddie runs Black Hops almost single handedly like a fucking boss. I do nothing and get all the credit, win, win, win.
Increase average website visits from 2,000 per month to 10,000.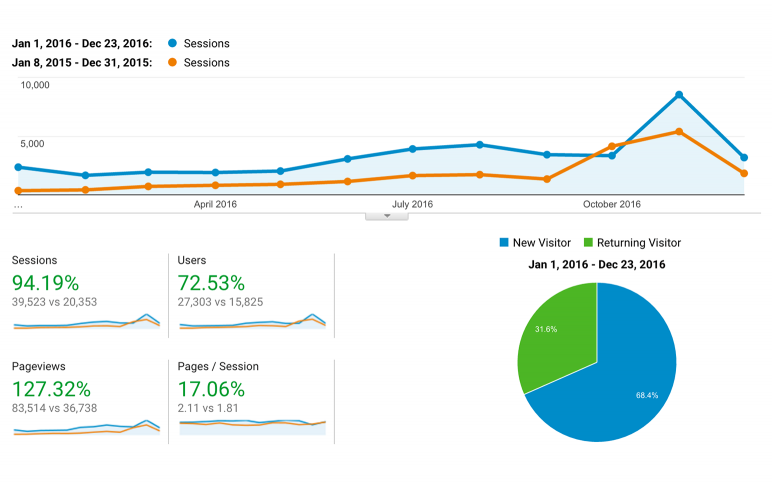 We didn't quite get to 10,000 but we did double website traffic from the previous year. Our podcast went really well but we haven't continued it from the first season, I'm keen to have a crack at season 2 in 2017. We did keep the blog content going and kept up a regular newsletter, which I think has meant everyone always knows what we are up to. It's amazing how many people come into the Taproom and they know so much about what is going on at Black Hops. I think the email list helps with that more than you'd think in this social media day and age, but we've also pushed social media constantly.
The email list has helped with direct sales of beer, merch and tours as well.
Get major mainstream media coverage.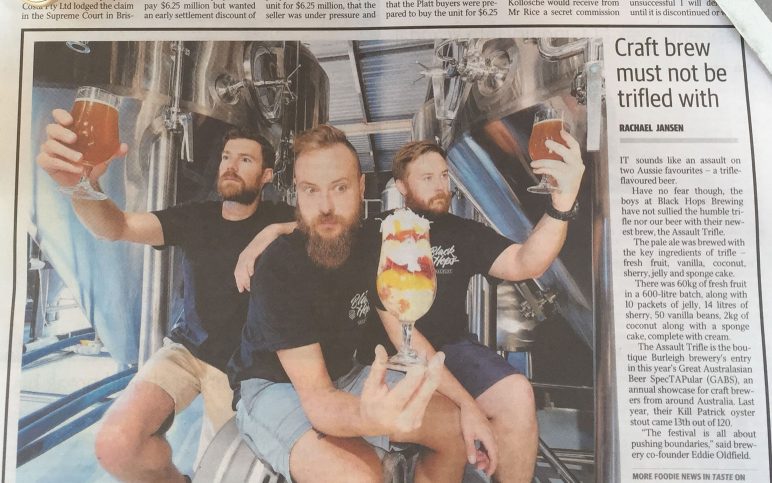 We certainly achieved this one, and had all bases covered from local outlets like Metropolist, Inside Gold Coast and Gold Coast Bulletin along with a surprise mention in the biggest tech news site in the world TechCrunch (related to the sale of WP Curve).
Related: Storytelling in business: how to use it to grow your brand
Increase likes on our Facebook page from 1,282 to 5,000.
We ended up getting to 3,166 likes at the time of writing, but I really had very little to do with our social media in the end so can't claim it either way. One thing I've learned in 2016 is that follower numbers don't mean jack shit. Black Hops Facebook crushes, even with a fairly low number of likes. I know people with hundreds of thousands of likes who don't get anywhere near the engagement we get. Here are some of the more successful posts from the last few months.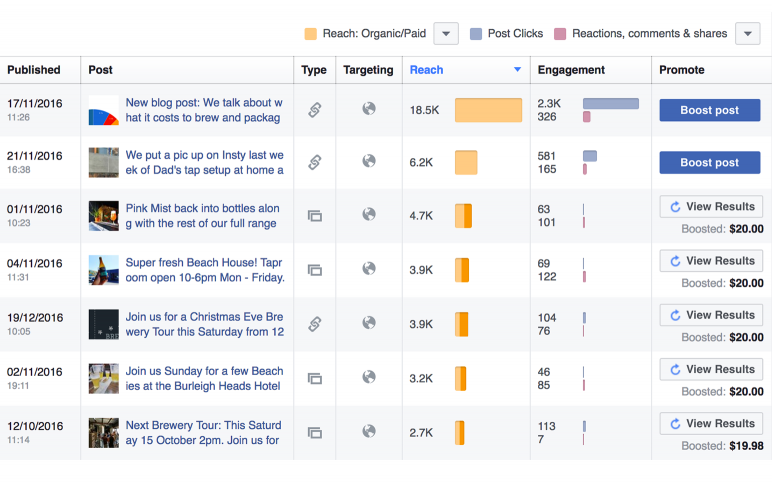 Increase Instagram followers from 1,692 to 10,000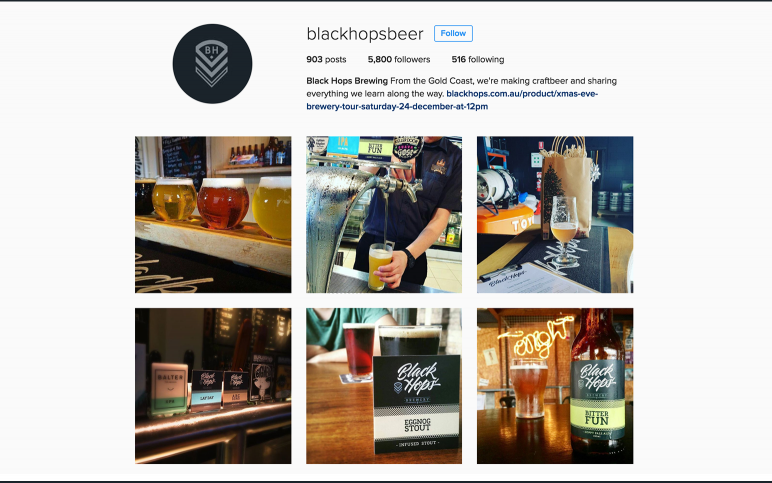 Same story with the Black Hops Instagram account. We didn't grow the follower number as much as we liked, ending the year at 5,800. But we get great engagement regularly getting 100+ likes but more importantly legit comments from real people. In the online marketing world all I see is spammy comments and auto followed accounts. What's the point if you aren't actually making an impact on anybody?
I won't be including follower numbers in future goals because while we failed this goal, I think we are doing great on Instagram. Again big shout out to Eddie who runs this by himself.
Hit $50,000 in monthly revenue
This was probably the most ambitious and unlikely of all the goals, simply because we had absolutely no idea about what revenue we would do at the start of the year – we didn't even know for sure if we'd have a functioning brewery.
But amazingly it turned out to be very accurate and we hit this goal in October, our 4th full month of being open and on top of that, it was also our first profitable month (the 2 months since have also been profitable). If you know anything about the beer business you'll know this is no small task. It's a constant balance between growing revenue and making profit and we've managed to nail that balance so far.
It feels almost surreal to think at the start of the year we had an empty shed, 6 months ago we weren't open and now I'm writing about hitting a goal of $50k / month. I had a big hand in marketing and branding pre-launch, but really have had very little to do with what has happened since. That is solely down to Govs' beer, Eddie's management and the support of a shit hot team of Kris our sales guy and 9 other casual and contract staff who help with the bar, marketing, admin and bottling, along with patient investors Sam and Paul.
Release our book and make it to #1 in the Beer category
I'm claiming victory on this one even though we only hit #1 in Australia haha, but the Operation Brewery book has been a real point of difference for us. It didn't have huge success on Amazon but we have sold hundreds of copies and it's also been included in a book deal for Australian and US book shops. It's bought regularly on our online store and our taproom and we've had nothing but positive feedback about it.
For me, for whatever reason it was by far the hardest of my 4 books to write. and it felt rewarding to get it out. It was the longest book I've written, and pulling together the content from Eddie and Govs was a new challenge, it was also pre-sold via our crowdfunding campaign so there was an added pressure to get it done. I finished the first draft on the flight to the US, and with some help from my normal book team as well as local legend James Graham and a team of reviewers from the Black Hops Facebook group, we were able to get it out not long after opening.
Make the top 10 at GABS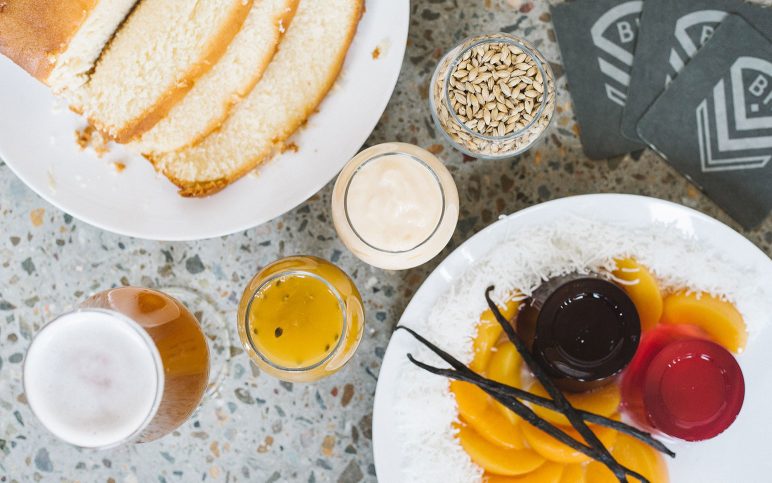 Again we hit this goal, coming in at #9 with Assault Trifle. GABS is a gigantic beer festival with thousands of people and over a hundred of the best breweries competing for the prize. We came 13th last year with Kill Patrick our Oyster Stout and coming into the top 10 this year was a pretty epic result. During the week of GABS we also spoke at events about marketing and beer and crowdfunding, and got some medals at the Australian International Beer Awards.
Eddie and Govs have pulled off some epic beers in 2016 but Assault Trifle was a real highlight. Throwing jelly and spongecake into a beer really shouldn't end as well as it did.
Make the hottest 100 beer list for the first time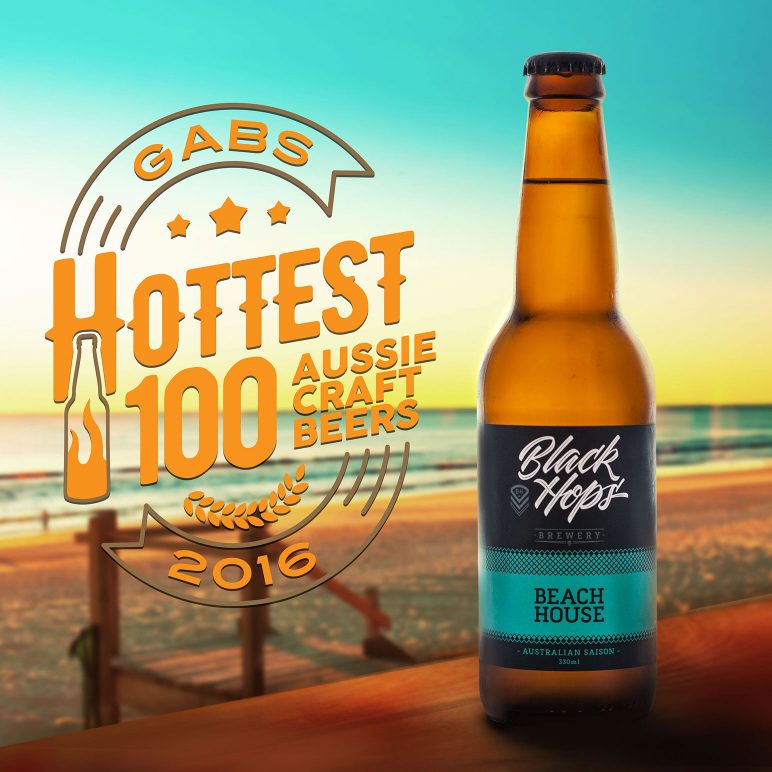 This one is currently underway. Last year we came just outside the top 100, but the voting is currently open (finishes 20 Jan 2017) for the 2016 list and I reckon we are in with a decent chance. If you would like to help out please vote here for Beach House Ale and help us get onto the list!
In short, it's a bloody fantastic year for Black Hops. We have plans to expand in 2017 and keep it rolling.
Personal Brand
In addition to WP Curve and Black Hops I also have my own personal business. I have written 4 books, have a free Facebook group with 10,000+ members, a private membership with 198 members and I speak at conferences – a fact that still blows my mind.
Here is how the personal brand has gone in 2016.
Turn it into a 6 figure business, increasing revenue from $60,000 to $150,000.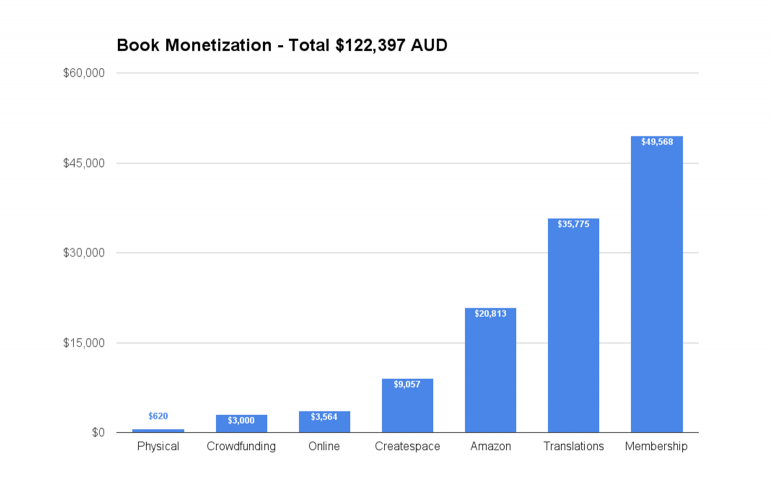 This was a slide from a talk I gave at DCBKK this year about book monetization. I should have been a bit less specific with my goal because I made 6 figures but didn't make $150k. Either way, it's crazy to think that during 2016 I had a side business doing 6 figures so I'm claiming a win here. This chart was October to October, for the calendar year my revenue was $120,118 AUD. The year isn't quite finished it will be slightly higher than that once Amazon royalties come in for December.
Related: How to build a 6 figure side business by self publishing books
Grow the 7 Day Startup Pro private membership group from 98 to 500 members.
This one I have to concede I didn't hit the goal, but I did double the membership of my mastermind group to 198 members. It's not as easy at it sounds because every one of those 98 existing members came up for renewal in 2016 and you always have a decent amount of churn. My group has been a bit of a challenge to grow but it's a bloody epic group of people so I'm happy it's still going and twice as big going into 2017. I am also putting a new funnel in place shortly designed to drive new members.
On top of that I do get fantastic feedback from current members so that encourages me to keep growing it.
Increase my personal @thedannorris Instagram following from 3,000 to 20,000.
Again with social media, when writing these goals I was pretty set on follower totals but right now I give very few fucks about followers. I was able to get my following to over 9,000 on my Instagram Account but I don't get great engagement and I have so many spam comments I feel it's barely worth it.
I've stayed away from silly spammy techniques like auto following and auto commenting, I've focused on posting regularly, quotes (mainly my own), and reasonably good pics. I don't think Instagram is really my platform, I'm not great at photos and I don't love just re-sharing other people's stuff. I also think so many people have spent so much time focusing solely on getting more followers in 2016 only to realize they can't really do anything with a large number that sits on their Instagram profile. So I'm cool with where I'm at with my Instagram and i won't be focusing on it that much in 2017.
One fun thing I did do this year on Instagram was release my entire book Create or Have via comments in the weeks leading up to the book launch. I created an image for each chapter and put the chapter contents in the comments on the post. I also re-shared to Facebook where they got quite a bit of traction as well. If you are super keen you can still read the book via the comments on my Instagram account.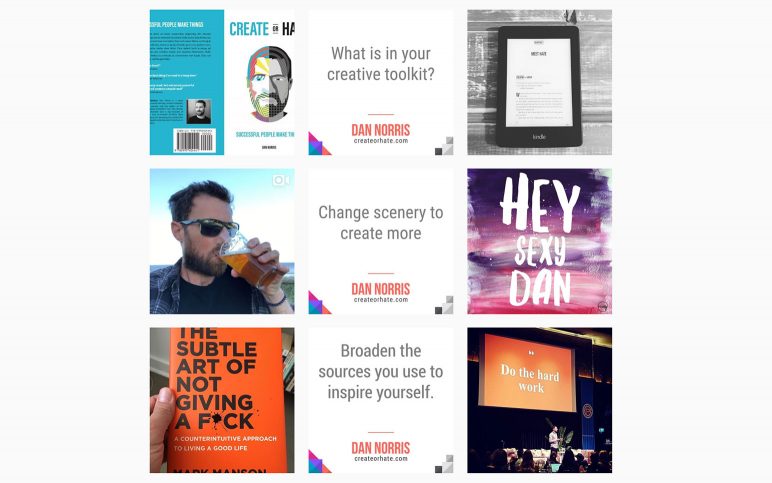 Release The 7 Day Startup podcast and hit 5,000 downloads per month.
I have to say this was a pretty bad fail. I did release the podcast but it was a bit of a disaster from day 1. I got booted out of iTunes for having swear words in my description (apparently shit is a fucking swear word), and by the time I got back online I'd lost the new and noteworthy opportunity. But more importantly I really just didn't have the energy to work on yet another marketing / business podcast, arranging guests and getting out the consistent content. I love listening to podcasts but I really don't have the energy to do a regular business / marketing podcast and there are plenty of great ones already.
Complete my first 7 Day Startup challenge and make it epic.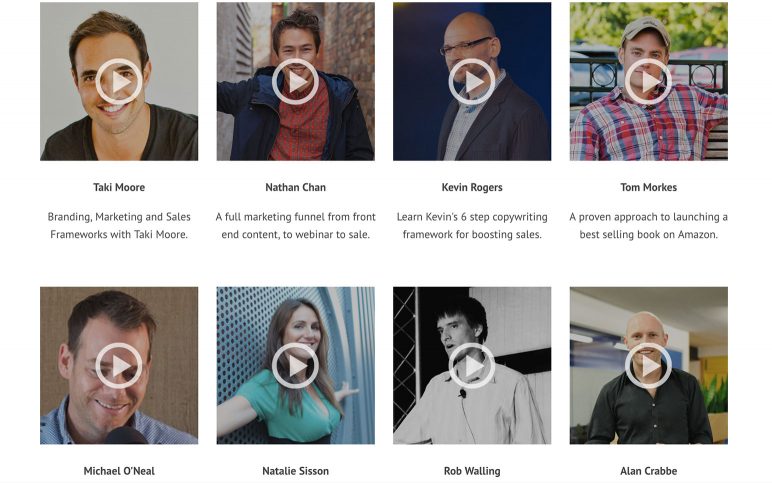 I'm claiming victory here, it seems like sooooooo long ago but I did do a number of 7 Day Startup Challenges. The first one in particular was huge with 10+ special guests and 1,000+ participants (you can order the video replays here).
I ended up doing 3 in the year and had an epic time doing them. I even wrote 2/3 of my last book during the last challenge and had a bunch of very cool businesses launch during the challenges, some reaching 6 figures plus.
In the end I felt they weren't getting better so I decided to stop doing the challenges.
Build my personal email list from 13,700 to 20,000.
I was able to build my personal email a bit more but one big realization I had here was again about numbers. I have 15,000+ people on my email list but once you start filtering it by people who actually read your emails, it is a whole let less impressive.
I think selling my business was a bit of an eye opener for me. You operate on a certain level and you focus on certain things and then you see another level and all of a sudden you think differently.
Going into 2017 I'm not thinking about how to increase my list size by 5,000.
Increase my average monthly website visits from 5,000 to 20,000 for 7DayStartup.com.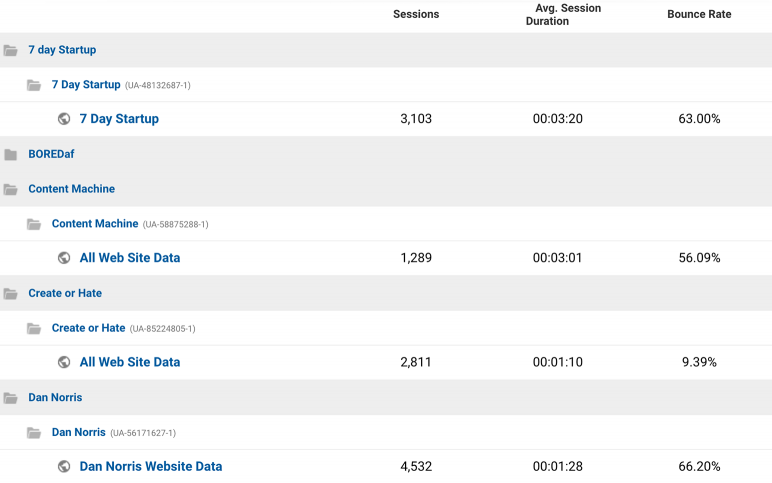 Towards the end of the year I decided to move my personal stuff from 7 Day Startup to Dannorris.me. I have 4 books now and only 1 of them is about startups and I wanted to be clear that the personal brand was the personal brand. As far as traffic goes I was able to pass 10,000 for my personal projects but not quite the 20,000 I aimed for.
I did employ a content person Ant to help with content on the site, and I got out content consistently. In the end though, I decided that the time and effort required really wasn't worth it for such a small business and I'd rather focus on something more ambitious (more on that in my 2017 goals).
Get nominated for Gold Coast Entrepreneur of the Year.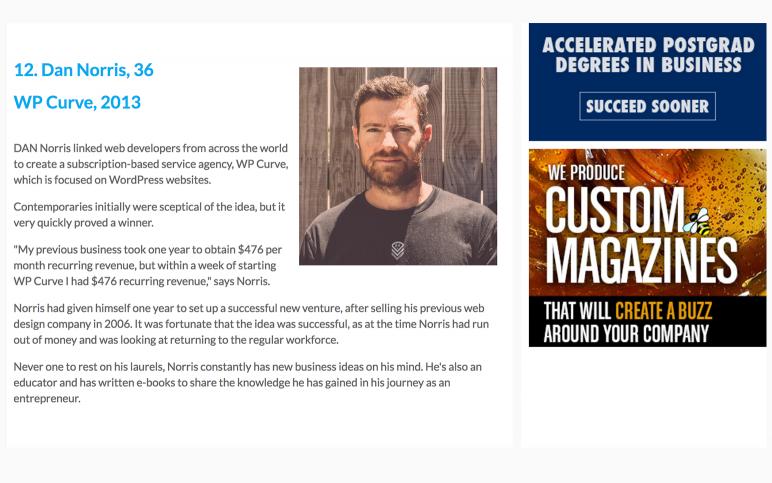 I was able to achieve this one coming in 12th in the Gold Coast 40 under 40 list which was pretty cool.
Launch 7 Day Startup Merchandise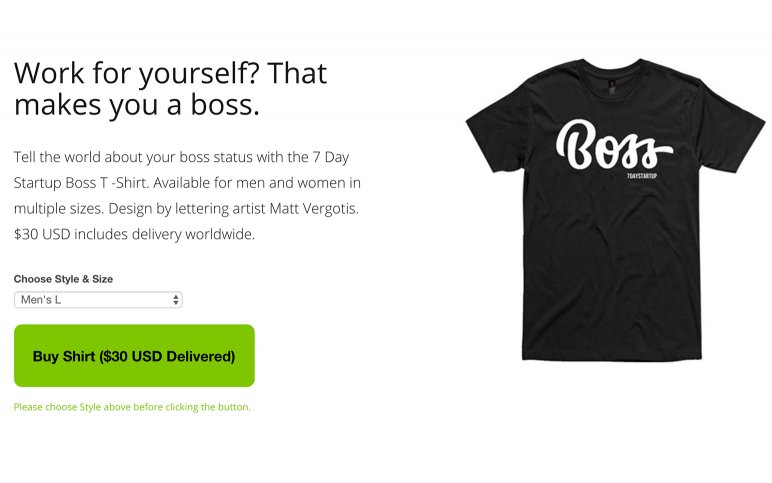 I had a BOSS shirt designed and had it for sale in January this year but I didn't follow through. I might bring this back in 17 cause I feel we need a BOSS shirt.
Inspire 1,000+ people to launch entrepreneurial projects
Well I'm not sure I achieved this one but I probably wouldn't know if I had. There have been a lot of 7 Day Startup style businesses started, I know of many 6 figure and at least one 7 figure business started after reading the book. At the start of the year I was very hung up on numbers but I'm not so much now. If people are inspired to start their business that is great, but I don't think it's something that can be quantified all that easily.
In addition to these goals I also released a 4th book, Create or Hate which has done very well. I wrote the first section of that book on the flight to the US as well, so it proved to be a high-output trip! The whole first draft of the book took me 3 days to write and the book was released within 3 months of having the original idea. The book was a surprise hit, reaching #1 in a number of categories on Amazon, being accepted to be sold in bookshops and just this week selling it's first international translation.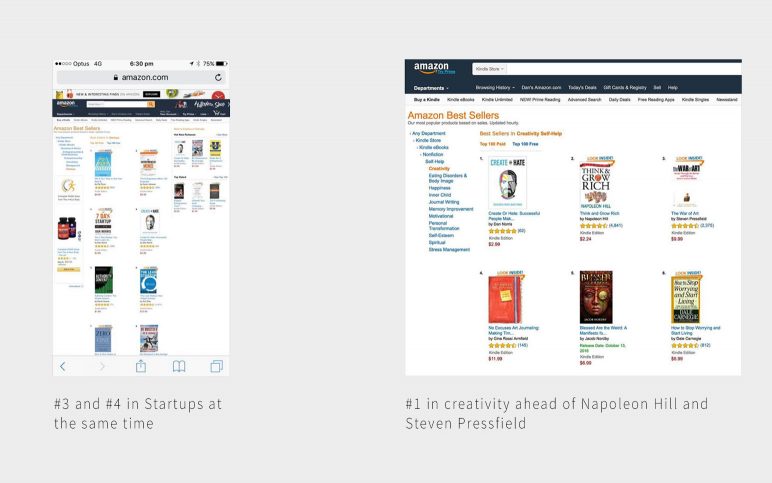 I also spoke at a number of events, the highlight being a keynote talk in front of 500+ people at Problogger. Walking out to Kanye West Jesus Walks was fun, and the talk went well. Still, the stress and anxiety caused by public speaking is a lot and I think I've pushed myself as far as I'd like to on this one, so I'm backing off a bit in 2017 saying no to all speaking opportunities so far.
[pb_walk]
What about you?
What were your goals in 2016 and how did you get on? Let me know in the comments below.