The Content Marketing Leap of Faith
Here's an excerpt from my 2015 book Content Machine. I've reproduced it here because I've been discussing it in my recent articles.
Related: This week I got 2 customers direct from one article and it restored my faith in content marketing.
The Content Marketing Leap of Faith
Okay, so where are we at?
You know the basics of content marketing and why it often fails. You understand you need great content, a great business, and a logical link between them.
You are good to go, right?
Not quite. There's one more reality check.
The content marketing leap of faith.
There's another important reason why people fail at content marketing. It's a reason that is visible on the Google Analytics charts of most successful blogs. They look something like this.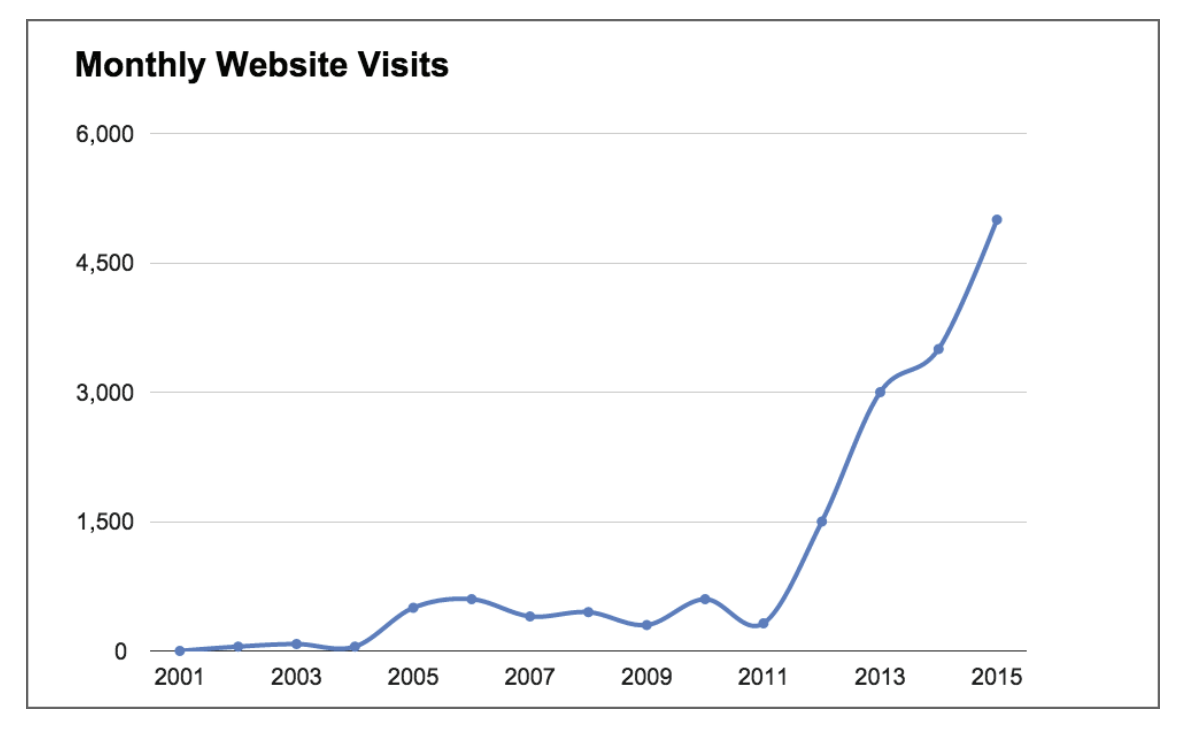 Hopefully you spotted it: they give up too soon. It takes a long time to build momentum, and most people don't have the patience to back something that isn't delivering immediate results.
Content marketing, by its nature, is a long-term exercise. Most top blogs create content for months or years before they hit traction. This is the norm, and there are a few reasons for it.
Content marketing is about building trust, and you can't build trust overnight. Trust is crucial online. People won't rush to read and share new sites. You have to earn trust over time, and you do that by consistently building your content brand. Unless you are a well-known entrepreneur, you are going to have to do the work.
It takes a while for some channels to kick in. For example, Google favors older sites with more links and more content. If we create an article right now on WordPress speed, it will rank well. But if we did that in our first week of business, it wouldn't rank at all. As it turns out, we do have an article on WordPress speed that was written some time ago. That particular article got 5,000 visits just from Google last month. It's hard to place a value on that amount of free traffic just for one article. We get tens of thousands of visitors every month to posts that were written years ago.
It takes a long time to endear a valuable community member. Much like physical communities, you can't just waltz in and expect to be at the top right away. It takes time for you to learn what the community members like and for them to learn that you are a valuable contributor.
It takes time to find your place. I've mentioned how critical it is to work out your core vision and work out what your audience loves. This is hard to do quickly, and you should expect some trial and error on that journey.
Good content breeds more good content. It could be the value gained by linking between blog posts, doing guest content on topics that went well on your site, or doing another post similar to one that did well on your site. Whatever it is, there is an "economies of scale" effect with content marketing. As you create content and you craft some winners, it becomes a lot easier to get more.
I experienced this myself in the years between 2008 and 2013. I really struggled to find my place, had patchy results, and created a lot of content that didn't result in much benefit. In 2013 I hit my stride. I released a bunch of posts that garnered over 200 tweets each and thousands of visits; I started getting mentioned on my favorite podcasts; I appeared on other posts as a guest author; and I was voted as Australia's top small business blogger by the readers of Smarter Business Ideas Magazine.
Before 2013, the highest number of monthly visits I had ever gotten to the site was 5,000. In 2013 I was getting 10,000 per month, and in 2014 I was getting 60,000 per month.
At some point along the way, I had to take a leap of faith. I had to accept that it was going to take me a long time to figure out how to get big results from the content, but I would figure it out. I trusted myself to work out what content I loved creating and how to best position it on my site. I worked through the void of limited results to our current position of ultimate competitive advantage, where we can acquire customers without spending a cent.
With the lessons in this book, you can get there quicker than I did. But it won't happen overnight.
Take the leap of faith.
If you have a WordPress site and you run an Aussie business, check out WP Master. If you want to follow my startup journey, jump on my weekly emails here.
Photo by Kid Circus on Unsplash